Link Directory:
There are 90 links in
6 categories
The Internet has no borders nor does TG Design.
Our mission is to help your company create an Internet presence worldwide and develop a global communication strategy placing the power of the web in your hands. From small to large companies, TG Design is the destination to a single source of high-quality services and innovative Internet solutions. TG Design is designed to promote your business online and to help you attract new clients and access new markets around the world.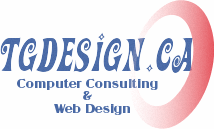 Portfolio
TG's Portfolio. In the following pages I have put on display examples of my work, demonstrating a variety of programming tools used in the Information Technology world. As is well advertised in the media, the IT world is one of the fastest growing and fastest changing fields in the world today. It takes a person with the ability to adapt and learn quickly to be successful.

Featured Link
»
Homs On Line
Homs On Line ...
Hits:
1763
Rating:

(
1.7
)

Newest Links

Top Links